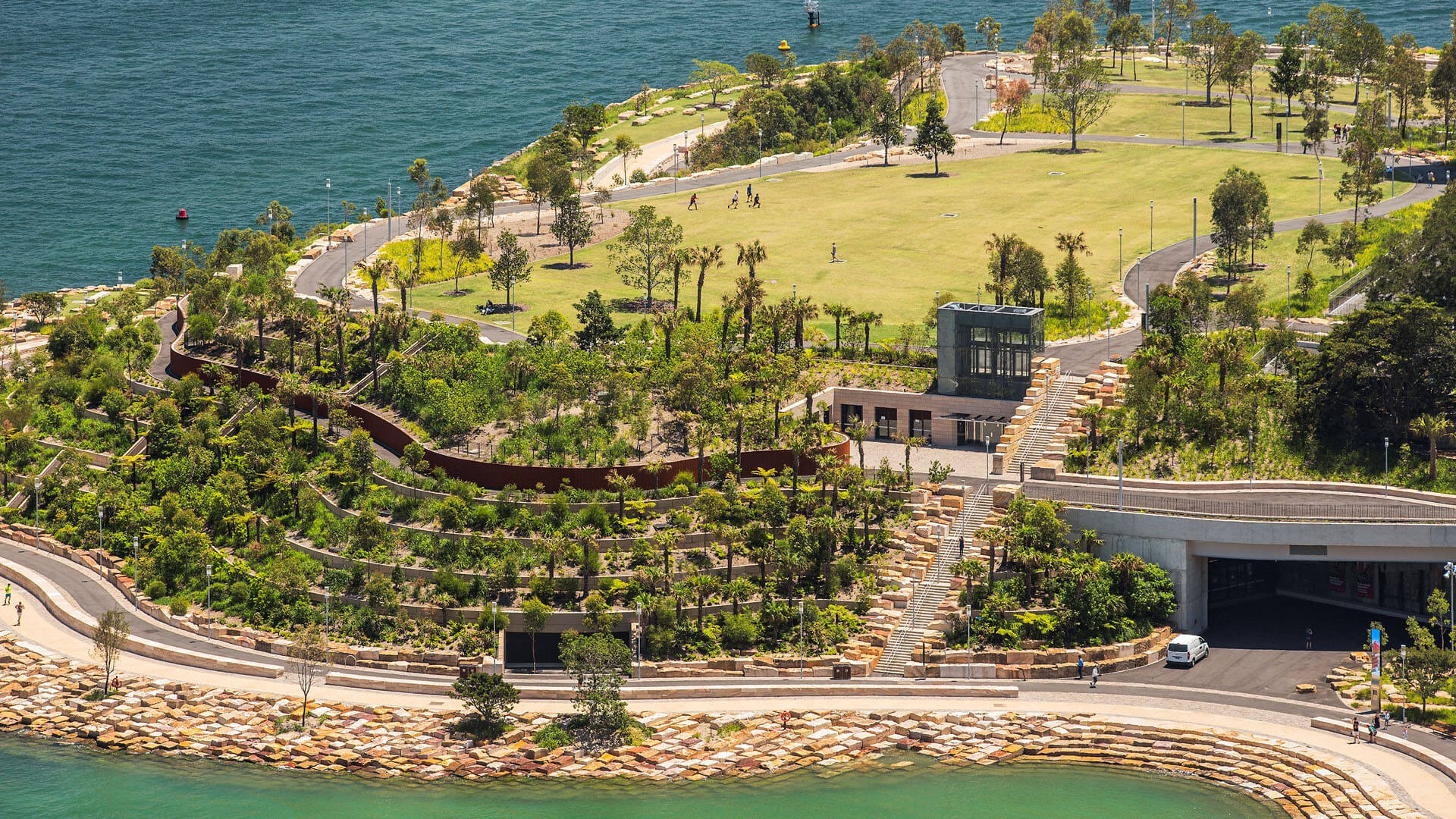 Precinct
Barangaroo Reserve
---
---
Getting Here
Barangaroo Reserve is right in the heart of Sydney just minutes from the CBD with excellent public transport links including train, ferry, bus, taxi, cycling and more.
Address
Hickson Rd, Barangaroo NSW 2000
75,000 native trees and shrubs, rolling green lawns, wide open spaces and sweeping views of Sydney Harbour. Welcome to Barangaroo Reserve.
What was once a disused container storage site is now 6 hectares of beautiful, public park on the waterfront. Barangaroo Reserve has been returned to the people of Sydney.
A visit to the reserve is one of the best things to do in Sydney. Explore and you'll discover a thoughtfully landscaped green space, featuring sandstone steps, a network of cycling and walking trails and several idyllic coves perfect for picnics or moments of serenity.
Sydney's best picnic spot
Barangaroo Reserve is definitely in the running for the title of Sydney's best picnic spot. Its undulating coastline and generously planted landscape provides plenty of private, shaded spots and idyllic coves, most of which have views over the harbour.
You can BYO food, picnic supplies and drinks (alcohol is allowed in the reserve), choose your spot, or grab takeaway from Barangaroo's many restaurants, bars and cafes. After you're done, why not stroll into Barangaroo via the Wulugul Walk, or cool off by taking a dip at Marinawi Cove?
Cultural tours
Barangaroo Reserve is home to public artworks and several tours. There are Aboriginal cultural tours that tell the story of the fascinating First Nations History, fun and educational school excursions and private group tours. Schools and private tours should use the following email to enquire and book: barangaroo.visitorservices@property.nsw.gov.au
Free public artworks
Barangaroo Reserve is dotted with significant public artworks. Have you seen them all?
At the entrance to the Cutaway you'll find Wellama, a 10 minute audio-visual artwork that reimagines the Welcome to Country and celebrates rituals that have been practised in Australia for thousands of years.
Embedded within the sandstone of Barangaroo Reserve you'll also discover the Ngangamay multimedia experience. Five carvings in five rocks around the reserve are the keys to unlock a series of short films that tell the story of Barangaroo, the Eora First Nations woman the precinct is named after.
Designed for you
Barangaroo Reserve is so much more than just a park. It's a natural and engineering marvel, designed for all the people of Sydney to enjoy (that's you!).
It features 75,000 native plants that have been curated to mimic the landscape before colonists arrived. There are 84 different species, which provide the only truly native flora experience here in Sydney.
10,000 sandstone blocks, 95% of which were extracted from underneath Barangaroo, were used to create the reserve's foreshore. Barangaroo Reserve is truly unlike any city-side park in Australia.
Getting to Barangaroo Reserve
Barangaroo Reserve is right in the heart of Sydney just minutes from the CBD with excellent public transport links:
The nearest train station is Wynyard Station, minutes away via Wynyard Walk.
Ferries via Barangaroo Wharf drop you on Wulugul Walk, minutes from the reserve.
Routes 252, 254, 261, 288, 290 and 292 stop at King St Wharf near the reserve.
The Sydney cycle network connects Barangaroo reserve with the city.
If you'd rather drive there's two levels of Wilson car parking underneath Barangaroo Reserve.
Eat & Drink
Pack a picnic or fuel up at The Streets of Barangaroo, just a short walk away.
View options