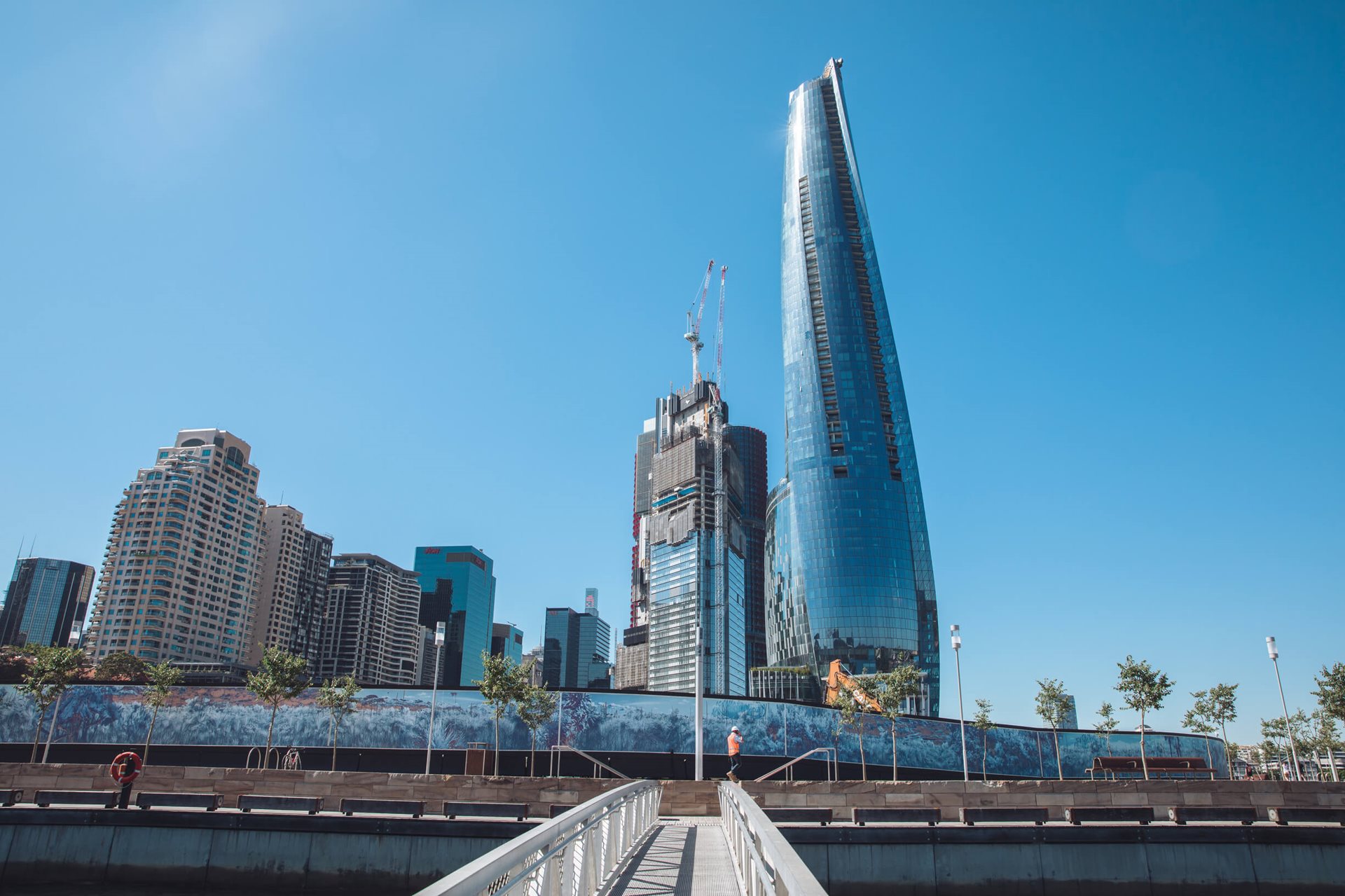 ---
---
Getting Here
Crown Sydney is centrally located along the Barangaroo waterfront, yet still in close proximity to the heart of Sydney. Although parking is limited at Crown Sydney, it is easily accessible by public transport.
Address
Crown Sydney, Level 3/1 Barangaroo Ave, Barangaroo
Crown Sydney is a jewel on Barangaroo's coastline, with panoramic harbour views. Visit and you'll discover a high-end luxury hotel and some of Sydney's best restaurants and bars.
You can see the twisting petals of Crown Towers Sydney from almost anywhere in the city. It's Sydney's fourth-tallest building at over 270 metres, with 75 floors of luxury residences, apartments, infinity pools and entertainment.
The tower features thoughtful, modern architecture inspired by the forms of nature, and resembles three twisting petals. But the Crown is more than just a pretty face - visit and you'll discover some of the best things to do in Sydney.
Experience Sydney's best restaurants
The Crown is just one tower but it's home to more world-class restaurants and bars than most small Sydney suburbs. That includes Oncore, which serves a degustation menu that draws inspiration from Sydney Harbour by the only female chef to ever receive three Michelin stars - Clare Smyth.
There's also refined Cantonese at Silks, contemporary Japanese fusion at Nobu, Italian fine dining at a'Mare and much more.
Treat yourself to a tipple at one of Crown Sydney's many bars
If you fancy a tipple after dinner you'll be spoilt for choice too. CIRQ is a rooftop bar boasting an expansive open terrace and breathtaking views of Sydney Harbour that was recently awarded 'Bar Of The Year' at Tourism Accommodation Australia's Awards for Excellence. Visit soon to sample their bespoke cocktails and delicious tapas.
Teahouse is another must-try - this take on a Chinese teahouse and lounge bar is an opulent sensory experience with luxurious cocktails and champagne.
Stay in a sky high luxury hotel
When you visit Barangaroo you're going to want to stay for a while. Luckily for you Crown is one of the best places to stay in Sydney, with hundreds of plush rooms, most of which boast panoramic views across the harbour.
There's also 24-hour room service, beds like clouds and hundreds of films and TV shows just waiting for you. If you'd prefer to get outside Crown also boasts Sydney city's only infinity pool, which almost blends into the harbour, boasting secluded cabanas and poolside dining.
For the ultimate in luxury visit the Crown Spa. In pristine, peaceful surroundings you can choose from dozens of pampering treatments and massages and even rent a private spa suite by the hour.
Getting to Crown Sydney
Crown Sydney is right in the heart of Sydney just minutes from the CBD with excellent public transport links:
Wynyard train station is just nine minutes away.
Ferries via Barangaroo Wharf drop you minutes from Crown Sydney.
The closest light rail stop is 11 minutes away at Bridge St.
The closest bus stop is three minutes away at Barangaroo South.
If you'd prefer to drive please note there is limited parking available at Crown Sydney, for hotel guests and top-tier rewards members. If parking is not available here, there's public parking available ten minute's walk away at Barangaroo Reserve.