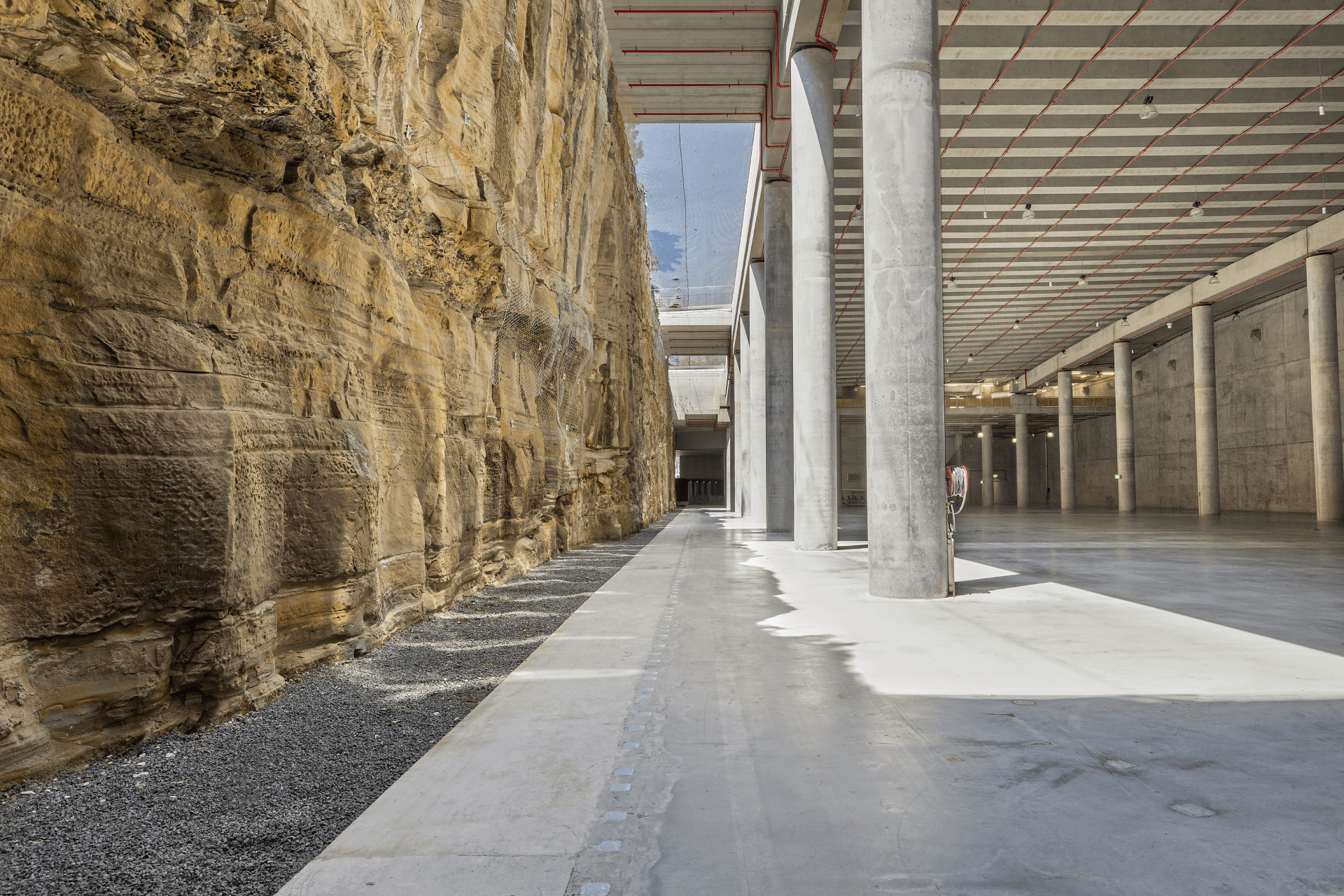 View gallery
The Cutaway is a unique below-ground concrete and sandstone space near the waterfront in Barangaroo Reserve - available for hire for events of up to 3,500 people.
One of Sydney's most unique event spaces, the Cutaway is a large concrete and sandstone below-ground venue underneath Barangaroo Reserve. 
Minutes from Barangaroo Reserve and the waterfront you'll find a 120 metre long underground space. This is the Cutaway. 
This super-sized concrete venue is one of Sydney and Barangaroo's premier large event spaces, and can be transformed however you choose to blow guests away at your next event. 
Introducing Sydney's most unique large event space
To create the foreshore of Sydney's newest waterfront reserve, Barangaroo Reserve, over 10,000 ancient sandstone blocks were excavated from underneath the reserve, mostly from the site that is now the Cutaway. 
The result is a super-sized below-ground space with a concrete floor that leads to a towering ancient sandstone wall that opens to the skies. This venue is a fundamental part of the city's recreated north-western headland.
Book the Cutaway for your next event
The Cutaway is open to the public and easily accessible via foot from Wulugul Walk.  There is also a 300 space underground car park just minutes away. 
It's an ideal venue to host a range of events, including exhibitions, launches, corporate functions, fashion shows and covered markets. The ancient sandstone wall and unique light also makes it a great location for photography and filming. 
5,400 m2 (approx)
Capacity 3,500 pax
Appropriate use
Artistic installations Temporary art displays

Photography

Light infrastructure events

Markets

Public entertainment e.g. music

Product sampling Public product displays

Commercial promotions Promotional activity

Activations

Live sites

Performances

Events

Functions, Launches

Filming

Food trucks
Exhibitions
Launches
Gala dinners
Corporate functions
Fashion shows
Markets
Filming and photography
Please contact Placemaking NSW directly to discuss.
Noise restrictions and impact on local communities and residents. 
Please contact Placemaking NSW directly to discuss.
Surface

Toilets

Located inside The Cutaway

Pedestrian access

From Barangaroo Reserve and Wynyard Station through Barangaroo.

Vehicle access

Limited loading zones available. Please discuss your needs.

Parking

Power

Water