Getting to Barangaroo Reserve
Whether you're on foot, cycling or using public transport, getting to Barangaroo Reserve is simple.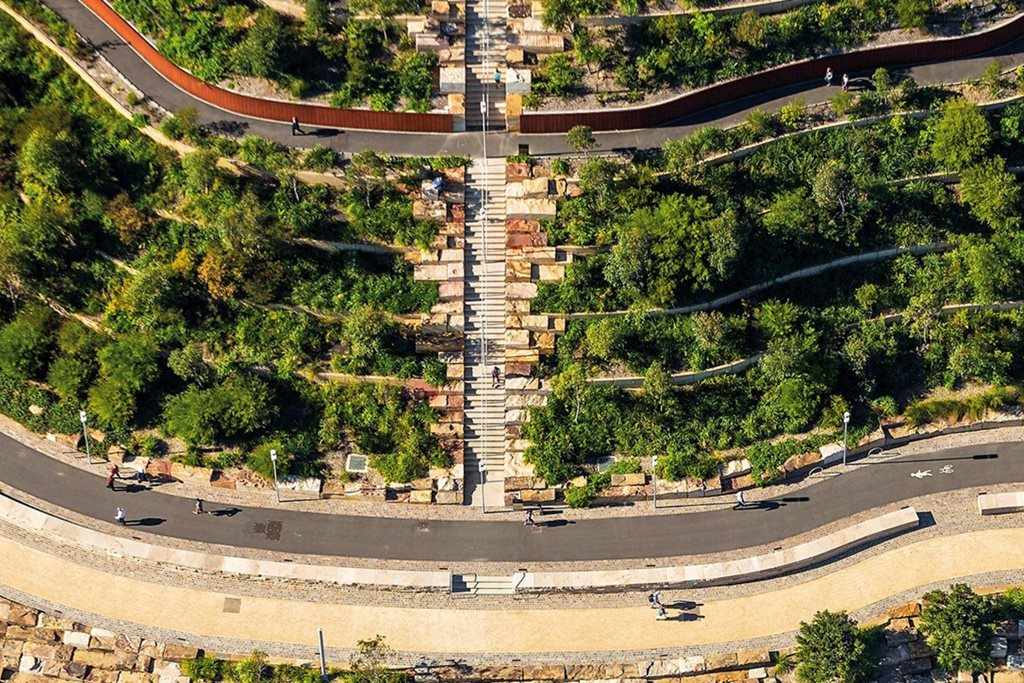 Walking
The walking routes from either Wynyard Station or Circular Quay to Barangaroo Reserve are similar in time and distance.
Wynyard Station to Barangaroo Reserve
From Wynyard Station, follow the signs to Exit 4 for Barangaroo and take the Wynyard Walk tunnel to Napoleon Plaza Exit. Your journey to Barangaroo Reserve from this point is signposted.
Hickson Road footpath is currently closed to pedestrians between High Steps and beneath Munn Street bridge. This is to allow concrete finishing work to continue in the Barangaroo Metro Station box. Pedestrians are encouraged to detour via Barangaroo foreshore promenade (Wulugul Walk) or via High Street. Please read the community notice for more information and a copy of the detour map.
Circular Quay Station to Barangaroo Reserve
There are two options if walking to the Reserve from Circular Quay. The most direct route is to walk past the front of the Museum of Contemporary Art, then turn left up Argyle Street and through the Argyle Cut, past the Lord Nelson Hotel and the Palisade Hotels, then enter the Reserve via either Munn Street or Bettington Street. This walk is approximately 1km and is fully accessible, with a short incline up through the Argyle Cut.
For a more scenic route, follow the waterfront walk from Circular Quay, past the Overseas Passenger Terminal, Campbell's Cove, under the Sydney Harbour Bridge to Walsh Bay and enter the Reserve at Towns Place. This walk is approximately 1.9km and is flat, fully accessible and offers wonderful harbour views.
Both routes will bring you to the Barangaroo Reserve where you will find signs directing you to your event or final destination.
Cycling
Barangaroo Reserve has a wealth of new shared cycleways. Cyclists are advised to use existing Sydney cycleways to enter the Reserve at Towns Place or the Hickson Road entrance near Nawi Cove.
Please note that shared pathways are temporarily reduced in width, and cyclists are asked to dismount around Nawi Cove.
Cyclists coming across the Sydney Harbour Bridge should leave at the Argyle Street ramp. Cycle racks are located at Towns Place and Nawi Cove. Find more cycle information here.
Train
The closest stations to Barangaroo Reserve are Circular Quay and Wynyard. You can then follow the walking directions above. Find train information here. 
Bus
Three bus routes – 311, 324 and 325 - provide visitors arriving at Town Hall the opportunity of a direct bus to Barangaroo Reserve. The 324 and 325 from Watsons Bay serve Barangaroo and end at Walsh Bay. The 311 to and from Millers Point serves Hickson Road, providing access to Barangaroo. Find further information on buses here.
Ferry
Arriving by ferry into Barangaroo Wharf offers visitors a spectacular view of the precinct. The wharf is immediately adjacent to the Barangaroo waterfront dining precinct. The F3 and F4 services stop here. It is a 10-minute walk north to Barangaroo Reserve. If arriving at Circular Quay, you can then walk to Barangaroo Reserve, following the walking directions above. Find ferry information here. 
Taxi
The best taxi drop off points are Towns Place and Argyle Place. The Hickson Road/Nawi Cove entrance is temporarily inaccessible by taxi. Taxis can be hailed at Walsh Bay.
Commercial Coach
Commercial coaches can set down and pick up passengers on High Street (enter via Kent street).
Driving
Wilson Parking operates a public car park beneath Barangaroo Reserve. The car park provides 300 car spaces, including eight accessible parking spaces on level B1. The car park entrance and exit is via Towns Place and it operates between 6:00am - midnight, seven days per week. Please find more information or book online here.
Please allow extra travel time if driving to Barangaroo Reserve. This is due to changes to the road network in the CBD. For the latest traffic information, visit Live Traffic or call 132 701.
Accessibility
Please see detailed information on accessibility here.