Barangaroo Reserve
Barangaroo Reserve is one of Sydney's best parks - a lush waterfront greenspace dotted with native plants. Discover the intriguing story behind its creation.
Barangaroo Reserve is a symbol of the precinct's transformation from a transformed industrial area to a spectacular harbourside precinct.
The Reserve recreates a headland that existed before European arrival in Sydney – a place used by First Nations people for thousands of years. This re-imagining required a process of restoration, creation and construction. The result? An expansive harbourside park surrounded by Barangaroo restaurants and bars - complete with walking trails, 75,000 native trees and Sydney's best picnics spots.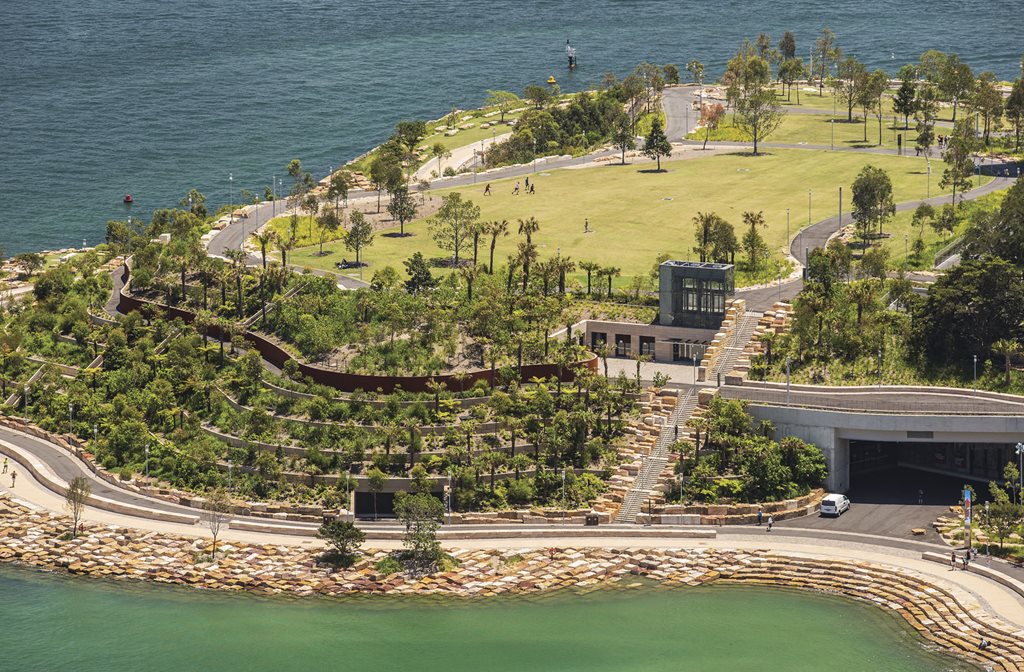 Moving history and earth
Barangaroo Reserve was designed by Peter Walker, FASLA, of PWP Landscape Architecture in association with the Australian design practice Johnson Pilton Walker (JPW). Large shell middens and rock engravings close to the site indicate occupation dating back around 6,000 years. The team aimed to recreate what was once a popular and culturally significant hunting and fishing area for the Gadigal People of the Eora Nation. Using the earliest historical maps and landscape paintings of the area, the team generated computer models to mirror the previous terrain.
Indigenous educators keep the history and majesty of Barangaroo Reserve alive through Aboriginal Cultural Tours where participants learn of the area's connections to Country while hearing and seeing the many layers of the Reserve's history.
Environmental ecosystems
Native trees and shrubs planted in Barangaroo Reserve continue to thrive
The 75,000 native trees and shrubs planted at Barangaroo cover 45 species. This whole-of-site sustainable approach uses a compost of re-used crushed sandstone and recycled sand from building excavations, green garden bins and wood mulch. 
This is the most scientifically significant planting program of its kind in central Sydney for decades – and it is thriving. Port Jackson figs have doubled in size since they were planted and shrubs such as wattle and callistemon are filling out to cover construction elements.
Native Australian bee colonies were also reintroduced to Barangaroo Reserve to help pollinate these native plant species.
Repurposing sandstone
No project in history has used more Sydney sandstone than Barangaroo Reserve
Of the 10,000 sandstone blocks used to create the extraordinary Barangaroo Reserve, 93% come from Barangaroo, Sydney itself. Extraction works purposefully allowed for blocks – tagged and organised to align with the design – that give a sense of scale and height, allowing people to experience the sensation of travelling ever nearer to the water's edge from the top of the reserve to the waterfront. 
Sandstone also shaped the construction of The Cutaway, a sensational 75-cubic metre concrete Barangaroo event space with a 120m column-free area. This is an engineering masterpiece - one of the largest internal spaces in Australia, sheltered under 12,000 cubic metres of rock, grass and mature trees. This versatile and atmospheric canvas allows The Cutaway to metamorphosise to suit Barangaroo events and celebrations.
Awards
American Architecture Prize 2017 as Landscape Design of the Year
President's Award at the 2016 Australian Engineering Excellence Award Sydney
Sir Edmund Hambly Medal at the Institute of Civil Engineers Awards in London
2016 Illuminating Engineering Society's Lighting Design Award of Commendation
Four awards at the LNA Master Landscapers Association's 2016 Landscape Excellence Awards
2015 Banksia Sustainability in Design, Build Award – Buildings, Landscapes and Infrastructure Projects
Australia's Project of the Year at the 2016 IPA National Infrastructure Awards
Australian Institute of Landscape Architects (AILA) 2015 Parks and Open Space Landscape Architecture Award
Architizer A+Award Jury Winner in the Landscape & Planning: Public Park
World Architecture News (WAN) Waterfront 2015 Award
The Cutaway
The Cutaway is a unique Barangaroo cultural venue that sits below the eastern end of Barangaroo Reserve.
Learn more