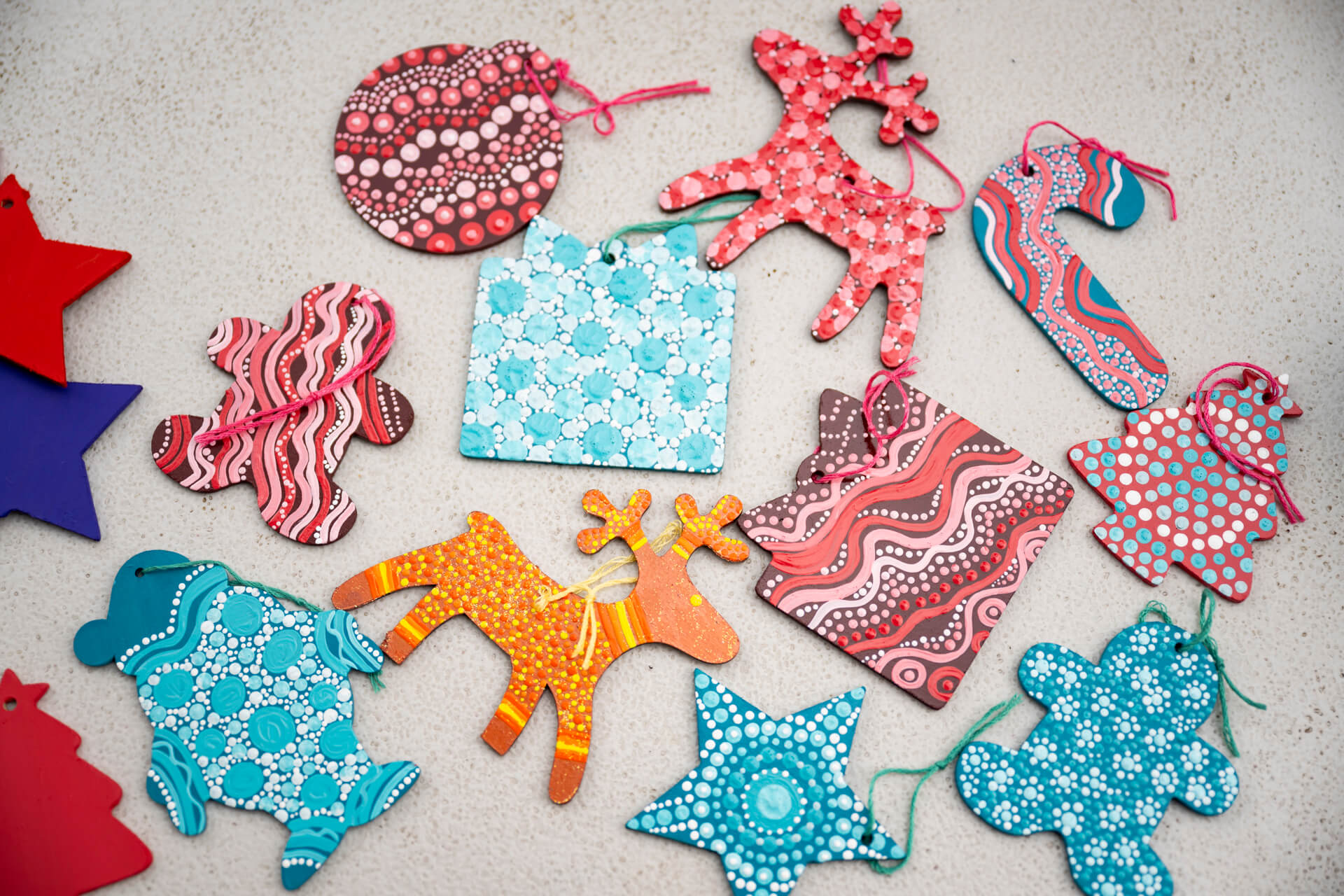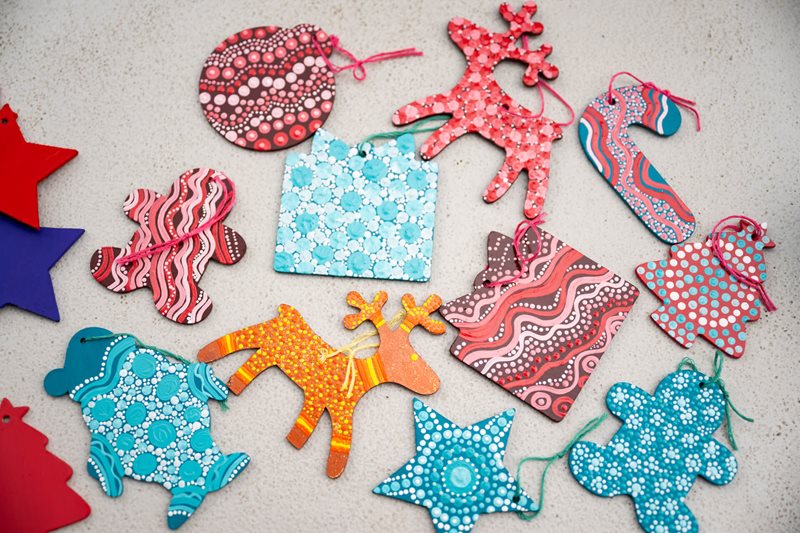 Event
Christmas Art in the Park with Joanne Cassady
---
When
1.30pm – 2.30pm

Please meet at Towns Place entrance to Barangaroo Reserve. There will be a sign for your meeting place.
Create your very own festive bauble with First Nations artist Joanne Cassady.
Join us for a special edition of Art in the Park this Christmas with renowned artist Joanne Cassady, descendant of the Wiradjuri & Yorta Yorta Nations.
Get creative with this free one-hour workshop in the beautiful and inspiring surrounds of Barangaroo Reserve.
Joanne Cassady's impactful artwork is featured on the Christmas Tree in Barangaroo this year, so now is your chance to create your own artwork! Suitable for kids, these fun bauble workshops will introduce to different symbols and dot painting used in First Nations art and you can use them to create your own work.
Participants will also learn about the cultural significant of creating art and telling stories through methods other than just speaking.
Participants will paint and decorate a wooden bauble, which be a perfect addition to your Christmas tree this year.
All materials supplied and all children must be accompanied by a parent or guardian.
Free but registrations required.
Wet weather
Please note, these workshops will proceed in wet weather but the location will change to Waranara Terrace, which is located in the space adjoining Argyle Place and Stargazer Lawn (the highest peak of Barangaroo Reserve). Ticketholders will be notified via email with directions. 

Waitlist 
Tickets are now sold out for these workshops. To join our waitlist, please email barangaroo.marketing@property.nsw.gov.au
Meet the artist: Joanne Cassady
Hear from artist Joanne Cassady as she shares the inspiration behind her artwork
The Healing Generation
Country binds us together in a way only she knows how and dreamings extend from the milky way through fingertips creating art that speaks to the spirit and reminds us that we are standing on her sacred soil.
Aboriginal culture and creativity extends from connection to Country and place. Joanne Cassady, Wiradjuri and Yorta Yorta woman, connects to her matriarchal line through her art practice. Every brush stroke tells a story not only of her family, but of the collective lived experience of Aboriginal resilience and self determination. Art is a form of healing and bringing together people to sit and be present within a history that is still bubbling its way to the surface for the broader public.
Joanne's artwork Cootamundra features a bale of six turtles travelling through water songlines. The turtles represent the five daughters and only son of her mother Janet (Isabel) Ingram.
Joanne's mother grew up in a time where Aboriginal children were stolen freely and without recourse under the Aboriginies Protection Act 1909. She was taken to the Cootamundra Domestic Training Home for Girls which began operating in 1909 and was responsible for forcibly removing over 500 young girls and sending them to work as 'domestic servants' in unsafe environments and without remuneration. Despite the mistreatment and purposeful isolation from culture and community, Joanne continues to share her mother's cultural stories through her art. Matriarchal strength, resilience, pride and power underpin her creative practice and nurture gentle moments for reflection on Australia's trauma inflicting history.  
The artwork Cootamundra is layered with significant cultural meaning that Joanne portrays in an artistic display of connection to Country, Place, Spirit, Culture and Family. The word Cootamundra is the Wiradjuri language word for 'Turtle', which is one of Joanne's totems from her Yorta Yorta father.  Cootamundra is also the name of the girls' home which tried to isolate Joanne's family from their culture. Cootamundra the artwork is a form of cultural healing and connection to place as Joanne extends a hand of cultural knowledge that will ignite a fire of understanding among those who bare witness to her work.
Through Joanne's artistic journey she was reunited with Country and community, collaborating with Coota Girls, an Aboriginal corporation that fosters healing with the women who lived at the home and their descendants. Joanne sees this generation as the Healing Generation and continues to share stories of her mother both dark and light, always finding moments to uplift and bring joy, reminding young girls and women that anything is achievable if you keep pushing on and moving up.

For more information on the Cootamundra Domestic Training Home for Girls visit the 'Coota Girls' website here
To keep up to date with Joanne Cassady's artistic practice, purchase an artwork or handmade wares or enquire about her educational programming visit the Balgarra Designs website here
Written by Biripi Woman, Aiesha Saunders
Sign Up
Subscribe to be the first to know about our latest news and events.