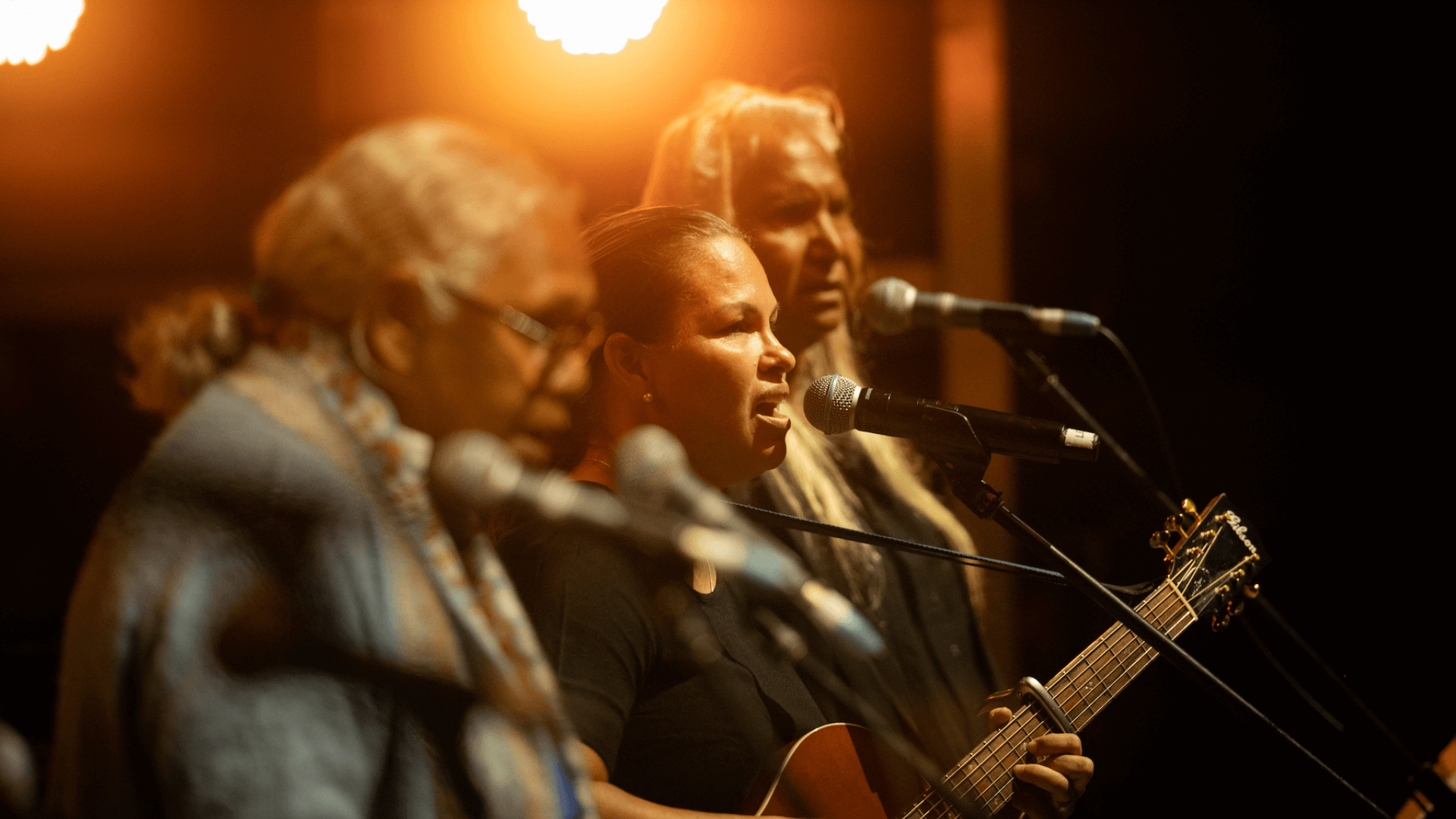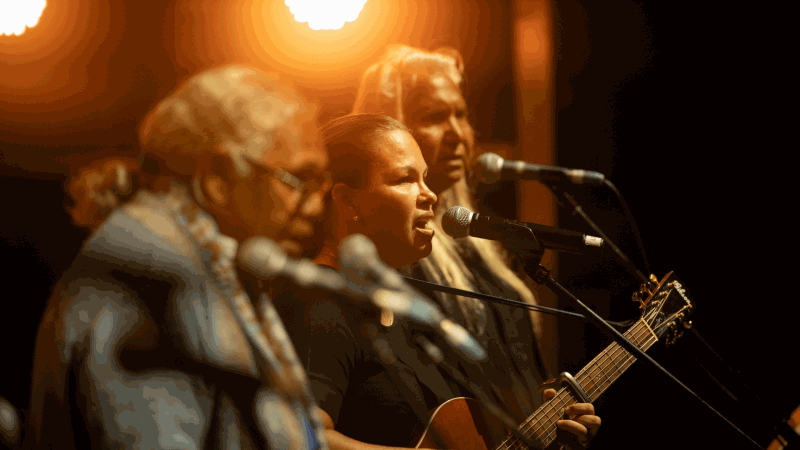 Past Event
Songs for Freedom concert
---
Join an unforgettable night of music, song, dance, and visual artworks.
Songs for Freedom is an uplifting free concert of original songs created by an intercultural group of artists, many in the Pilbara town of Ieramugadu (Roebourne WA). 
Performing with special guests from throughout this country, Songs for Freedom tells stories of the striking beauty of this vast place and its people. Guided by Ngarluma and Yinjibarndi Elders, the concert pays tribute to the family of John Pat in the 40th anniversary year of his passing in custody. With Musical Direction by Grammy Award winner Lucky Oceans and powerful narration by Ngarluma man, Patrick Churnside, this moving performance is the tangible manifestation of a project that has been running since 2010. Supported by Elders, the project has delivered workshops in the community, the school, and the prison, creating digital content, music, theatre and performance to create a positive change in Ieramugadu and beyond.
We welcome everyone to this is family-friendly concert experience, that will fill your night with hope, peace, and freedom.
The Freedom Collective
Songs for Freedom offers heartfelt messages of freedom and hope from the people of the Pilbara, in their own words, and is set to fill the night with voices of peace, freedom and country.
Produced by Grammy Award-winning musician Lucky Oceans, Songs for Freedom features contributions from David Hyams, Tayla Valenti, Jay Jerome, Hannah James, Fred Ryan, Tyson Mowarin, John Bennett and Patrick Churnside, Allery Sandy - Yindjibarndi Elder and Michelle Adams from the Roebourne Community.
Listen to the Songs for Freedom album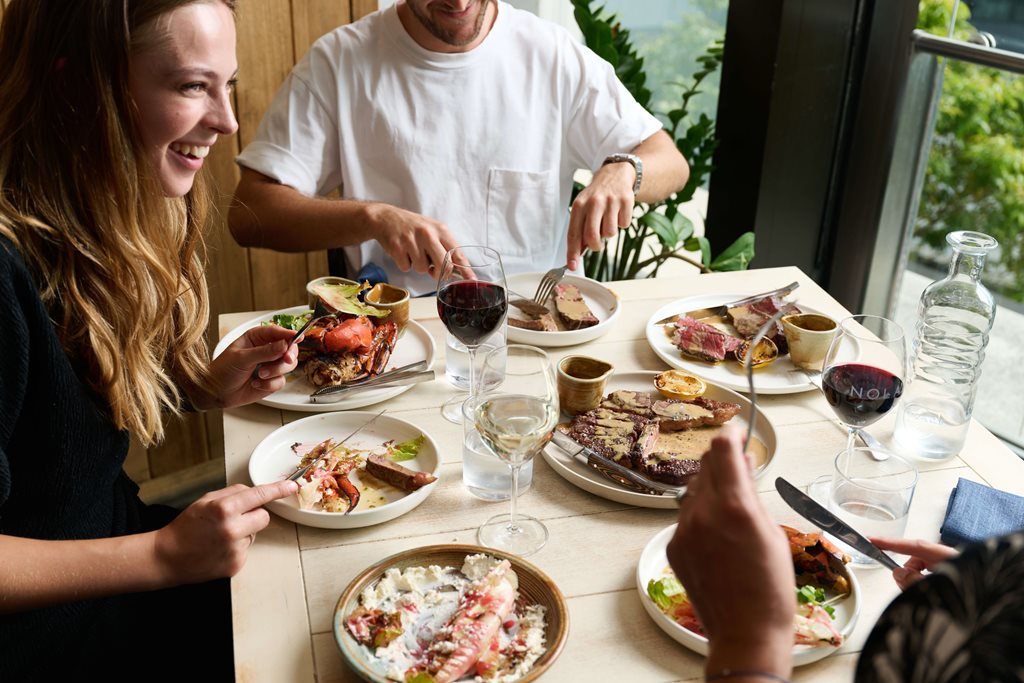 Win dinner on us!
This competition has now closed. Thanks to everyone that entered.
Win a gift card for dinner at NOLA Smokehouse & Bar worth $200 to enjoy a pre-concert dinner. This competition closed 11.59pm Tuesday 29 August, 2023.
FAQs
No! Simply come along on the night and enjoy an uplifting and inspiring concert in the beautiful Barangaroo Reserve. Access is available throughout the day if you want to arrive early to get a good spot!
There are plenty of ways to get to Barangaroo Reserve from train to ferry to driving! Plan your trip via this helpful link. Please note, if you are driving, the public carpark behind Barangaroo is operated by Wilson Parking and provides 300 car spaces, including eight accessible parking spaces on level B1. The car park entrance and exit is via Towns Place and it operates between 6:00am - midnight, seven days per week. Please find more information or book online here.
There will be a food and coffee truck at Barangaroo Reserve and plenty of restaurants located in The Streets of Barangaroo and Crown Sydney for a delicious pre-concert dinner. Or feel free to pack a picnic and enjoy in Barangaroo Reserve. 
Yes. You are welcome to bring a picnic. There will be a food and coffee truck at Barangaroo Reserve. There are also restaurants and cafes near by at The Streets of Barangaroo and Crown Sydney for a pre-concert dinner. You can find out more here.
By attending this event you agree to be included in the film and photography of the event which will be used for ongoing event promotion. Please let the photographer know on the night if you do not wish to be filmed.
Get up to date on the latest
Subscribe to get up to date on our latest news and annoucements.
Sign Up
Subscribe to be the first to know about our latest news and events.