Barangaroo South
Looking for things to do in Sydney? You'll find Barangaroo's best restaurants, public spaces, bars, and events in the ultra-modern, waterfront Barangaroo South.
Barangaroo South, a dynamic commercial, retail and residential precinct, evolved from a former gasworks site. Extensive remediation has allowed for new spaces like Watermans Cove and Wulugul Walk; a juxtaposition of offices, homes and shops; and major drawcards like Crown Sydney, which is home to several Barangaroo restaurants.
270k sqm of premium office space
100% carbon neutral in use
90 shops and restaurants
The NSW Government partnered with Lendlease and Crown to create world-class commercial, residential and retail spaces at Barangaroo South – a precinct that contributes to Sydney's reputation as a major Asia-Pacific financial hub.
Timeline
2024: The One Sydney Harbour residential development is expected to be complete
2022: Hickson Park amenities building opens
2020: Hickson Park and Watermans Cove open, adding 11k sqm of community space. Crown Sydney opens, exemplifying design excellence with a mix of signature restaurants, a hotel and apartments. Winner of the Pier Pavilion national design competition is announced. A Living Seawall is installed underwater in Watermans Cove.
2019: Barangaroo South wins the international architecture award for urban planning and landscape architecture
2017: The bustling commercial and dining areas of Barangaroo South are complete
2012: Construction begins on the three International Towers, foreshore, residential buildings and streets
2009: Lendlease selected as preferred developer for Barangaroo South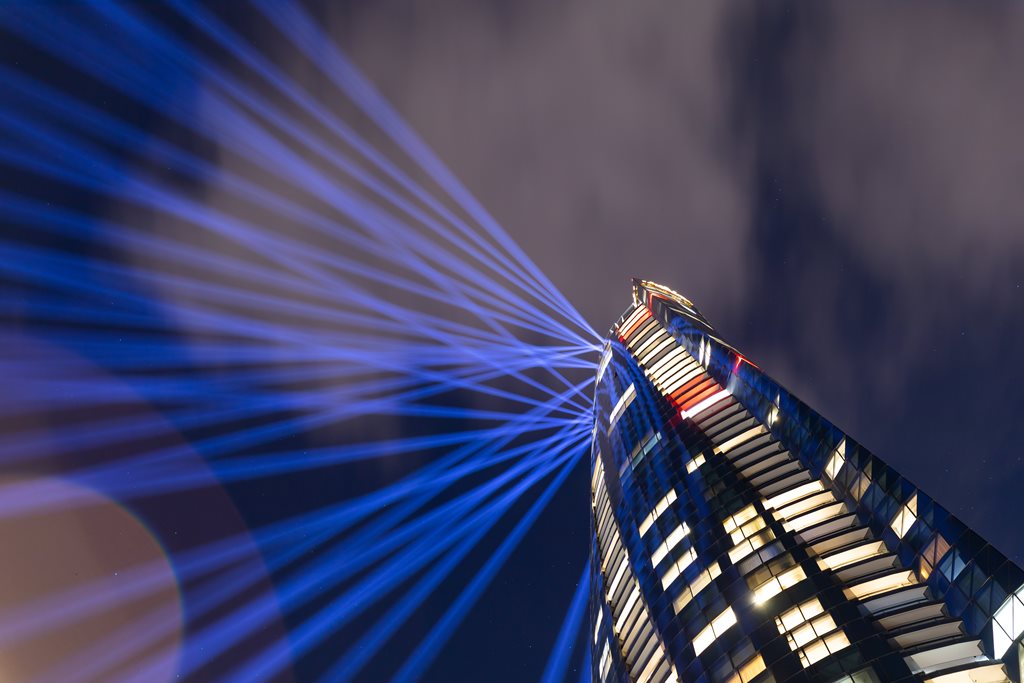 Architectural excellence
Barangaroo South forms a new Sydney skyline, with internationally recognised examples of innovative architecture.  
International Towers on the Barangaroo harbour foreshore is a progressive workspace, home to some of Australia's largest companies.
Crown Sydney is Sydney and Barangaroo's first 6-star hotel resort with some of the best restaurants and eateries, bars, apartments and a free observation deck for people to enjoy views of Sydney.
Barangaroo House is a dining destination with timber facades and both ornamental and edible greenery. It was designed by Collins and Turner following a design competition. 
Alexander and Anadara residential buildings feature nearly 160 apartments and ground-floor retail spaces, with natural colours and textures that respond to the waterfront setting. 
One Sydney Harbour will pay homage to the harbour's 'constant kaleidoscopic motion of colour and sparkle'. Its design embodies esteemed architect Renzo Piano's love of crystal and reflections in his architectural work.
In 2019 Barangaroo South won The International Architecture Award for urban planning and landscape architecture.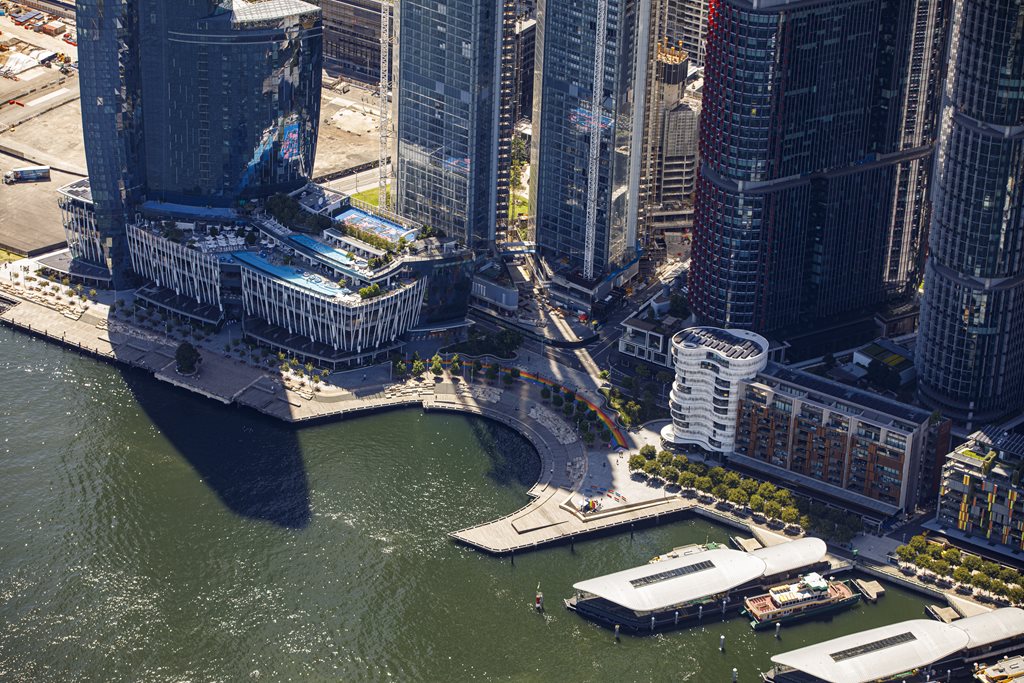 Open spaces
Industrial land and concrete barriers once cut off the city from the western harbour. Today, with 2ha of public open space, Barangaroo South liberates the harbourside for community use. 
Watermans Cove is an amphitheatre-style boardwalk accessible to everyone, stepping down to the water from a crescent-shaped cantilevered Barangaroo waterfront walkway. 
Wulugul Walk is a tree-lined harbourfront path running north-south, all part of the 11km connection from Woolloomooloo to the Anzac Bridge. This Barangaroo waterfront walkway runs right through the famous Barangaroo Reserve. 
Hickson Park is a cooler, shaded Barangaroo park with an open green lawn and sheltering belt of predominantly native trees.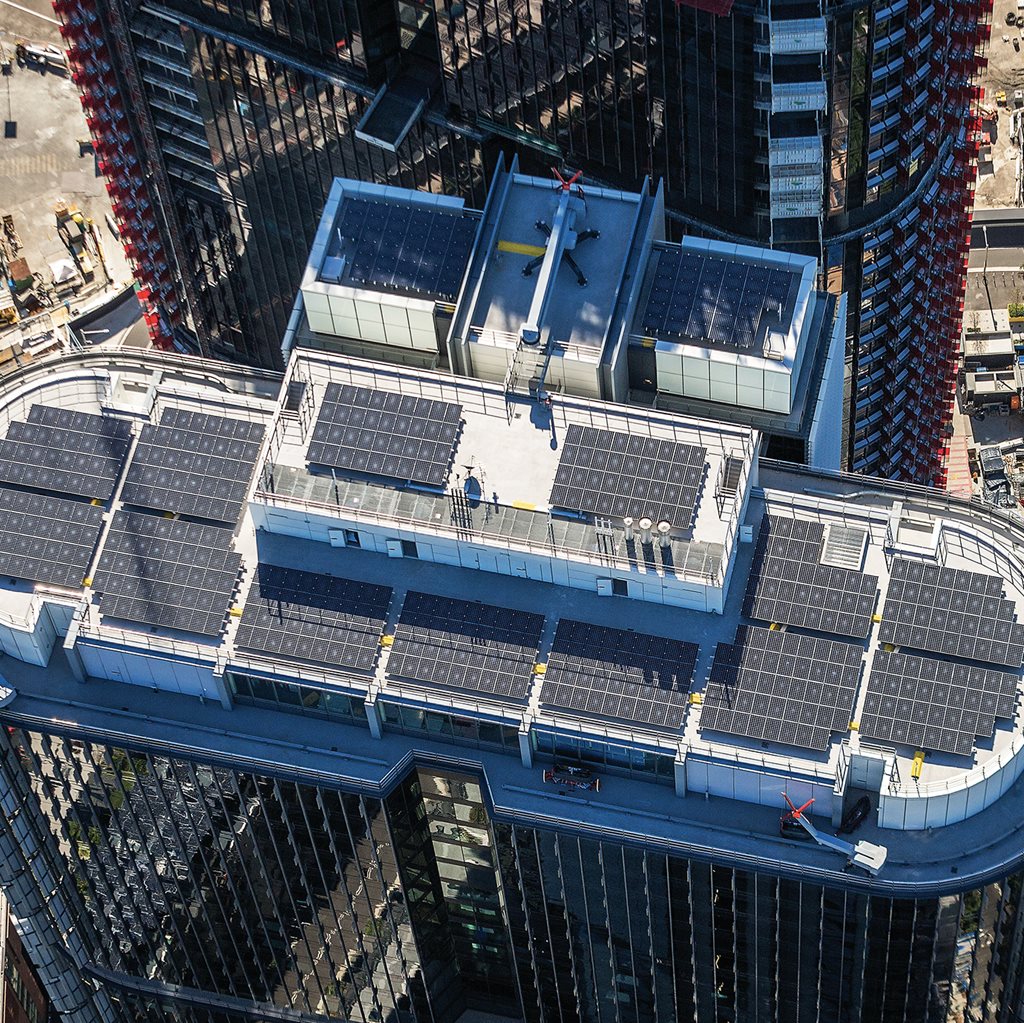 Embedding sustainability
The commitment to sustainable design in Barangaroo is embedded within the infrastructure and buildings. From the expansive solar power station spread across the rooftops of various buildings, to vertical cooling panels or the centralised District Cooling Plant, the entire development builds-in resilience. 
This ethos began during construction, with waste reduced by 97%, and carries through to operation, with innovations such as rainwater tanks, the use of recycled water and a plethora of safe and convenient green travel options. Food waste generated from International Towers is converted to compost through a shipping container 'farm' with layers of fly larvae.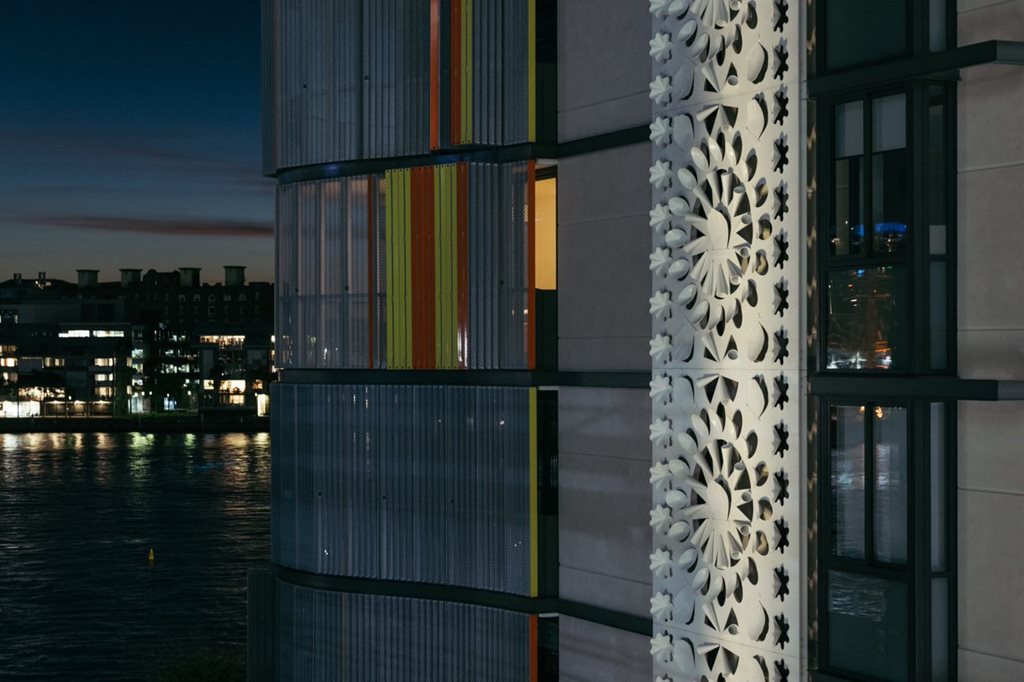 Art and culture
Both temporary and permanent art in Barangaroo South recognise Barangaroo's history and its contemporary reputation as a space for people and commerce. 
At the southern gateway to the Wulugul Walk, the seven-storey shellwall on the southern façade of the Alexander residential building is a permanent celebration of the area's shell middens, many of which were burnt to provide lime for the mortar that still holds together sandstone buildings across the city. In Exchange Square you'll find Mermer Waiskeder: Stories of the Moving Tide, 11 eagle rays made of 'ghost net' - abandoned fishing nets that have been recovered from the ocean and repurposed.
Hickson Park
Hickson Park is a public greenspace planted with trees and lush natives. One of the best spots in Sydney for a picnic, a quick work lunch or a little time in the sun. Find out more about how it was built.
Learn more
Pier Pavilion
The Pier Pavilion, located in Watermans Cove, will be a stunning place where people can meet, gather and relax by the water, or enjoy a range of Barangaroo events.
Learn more