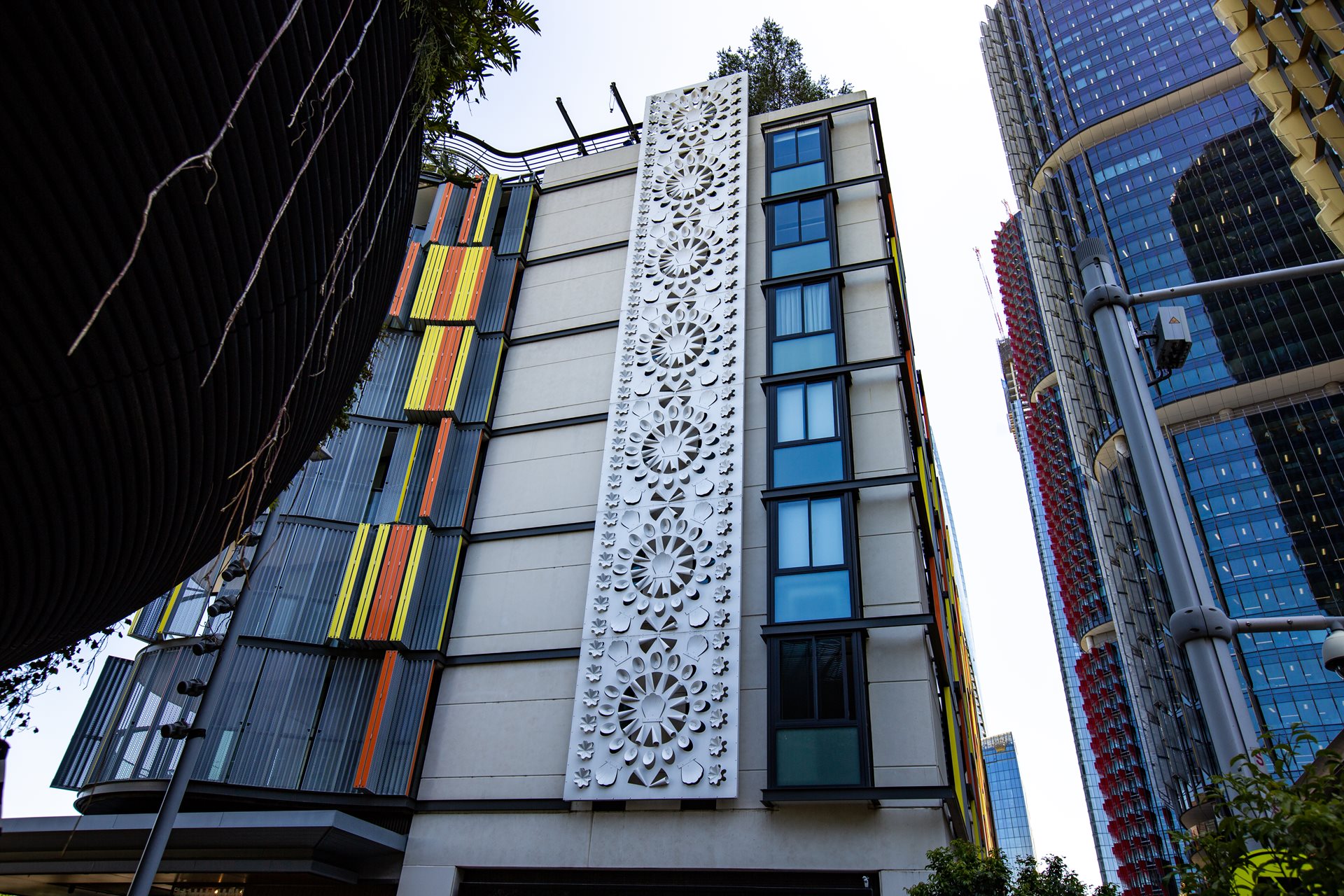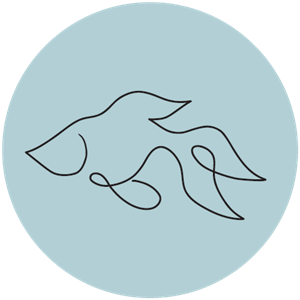 ---
---
Address
4/33 Barangaroo Ave,
Barangaroo (above Rivareno Gelato)
A beautiful seven-storey shell art installation.
shellwall 2015 can be found on the southern façade of the Alexander residential building, providing a southern gateway to Barangaroo's waterfront promenade, Wulugul Walk.
The work is a collaboration between Bidjigal/Eora elder and senior artist Esme Timbery and Wiradjuri/Kamilaroi artist Jonathan Jones, and celebrates the important shell-work tradition of La Perouse and the contemporary practice of respected artist Esme Timbery, a fourth-generation shell artist.
Jones and Timbery have worked together on various exhibitions, short films and projects but this is the first time they have created a work of such scale and striking simplicity.
It is constructed with multiple 8mm-thick aluminium panels creating a 22.35 x 3.5 metre artwork. Each panel is decorated with a combination of larger-than-life cast aluminium shells welded to the screen adjacent to their corresponding cut-out shell shapes on the panel. The shells are laid out and designed by Aunty Esme, following patterns similar to her celebrated harbour bridges, boxes and booties.
The two artists first met when exhibiting together in a show titled Djalarinji at Manly Art Gallery and Museum in 1998. Since then they have developed a rich dialogue, and in 2001 as part of the Sydney Opera House Message Sticks Festival they collaborated on the special commission of the first shell-worked Sydney Opera House. Jones created the sculptural form and Timbery shelled the work, which is now part of the National Museum of Australia's collection.
Barangaroo was a location renowned for its shell middens during the colony's establishment
Emily McDaniel, the former assistant curator of Aboriginal and Torres Strait Islander Art at the Art Gallery NSW, worked with the artists to help realise the project, which reflects both the culture of the traditional owners, the Gadigal/Eora people, while recognising the more radical changes brought about by the contemporary city of Sydney.
McDaniel says: "The inverted and coiled shell panels appear as though a fragment of the oyster-encrusted foreshore has been placed upon the building. These shells are representative of an enduring connection to Country, drawing on the intimate knowledge required to source and work with them. Barangaroo was a location renowned for its shell middens during the colony's establishment in Sydney, many burned to provide lime for the mortar which holds together many of the city's sandstone buildings to this day."
shellwall 2015 was launched on 18 December 2015 – the first public art to be commissioned and created under the Barangaroo Public art and Cultural Plan.
Watch a video of the artists discussing their work here.
Esme Timbery
Born 1931, Bidjigal artist and elder Esme Timbery comes from a long line of shell workers from the Aboriginal reserve of La Perouse in Sydney, Australia's oldest urban Aboriginal community. The Timbery family have always been an important part of Sydney's cultural life. The Timbery name has been recorded since the early 1800s and her great-grandmother was 'Queen' Emma Timbery, an important community leader and renowned shell-worker. Like most shell artists, Esme Timbery and her late sister Rose Timbery learnt shell work from their mothers, grandmothers and aunts by first sorting the shells by type, size and colour. In the 1940s they joined the shell-working network and began to sell their work.
Often sculpted out of cardboard, the forms are covered in material and shelled, then topped with glitter. The designs and patterns created from different types of shells and their layout are inherited, with individual family styles recognised and understood. Esme Timbery is known for her shelled boxes, ornamental booties or small slippers, frames and the recurring subject of the Sydney Harbour Bridge. Her shell work has been exhibited throughout Australia and is held in the collections of the National Museum of Australia, National Gallery of Australia, Art Gallery of New South Wales, Museum of Contemporary Art and the Newcastle Art Gallery. In 2007, she was the subject of the documentary She sells sea shells, and in 2005 was awarded the inaugural Parliament of New South Wales Aboriginal Art Prize.
Jonathan Jones
Sydney-based Aboriginal artist Jonathan Jones, a member of the Wiradjuri and Kamilaroi nations of south-east Australia, works across a range of mediums, from printmaking and drawing to sculpture and film. He creates site-specific installations and interventions into space that use light, subtle shadow and the repetition of shape and materiality to explore Indigenous practices, relationships and ideas. Jones often works with everyday materials, such as fluorescent lights and blue tarpaulin, recycled and re-purposed to explore relationships between community and the individual, the personal and public, historical and contemporary.
He has worked on several major public art commissions, including the Commonwealth Parliament Offices in Sydney and Wagga Wagga Regional Airport. In past projects Jones has sought to represent both the traditional and contemporary by working with the particular site's historical usage and current vision. Often perceived as oppositional, these two frameworks are in fact linked, sharing commonalities and connections; Jones's artworks serve to honour both contexts.
At the heart of Jones's practice is the act of collaborating, and many projects have seen him work in conjunction with other artists and communities to develop outcomes that acknowledge local knowledge systems to connect the site with local concerns. Jones has exhibited both nationally and internationally: in Australia at Sherman Contemporary Art Foundation, Sydney, and the National Gallery of Australia, Canberra, and overseas at the Palazzo delle Papesse Contemporary Art Centre, Siena, Italy, and Plug In Institute of Contemporary Art, Winnipeg, Canada, among others. In 2014, Jones was awarded Kaldor Public Art Projects' Your Very Good Idea
@TheRocks.Models.Tenant.TenantViewModel