21 Sep 2023
Build your best picnic at Barangaroo
Who doesn't love a picnic?
Who doesn't love a picnic? Believe it or not, Barangaroo is the perfect place to have your next picnic, with tons of foodie faves and beautiful green spaces. And now that Spring has truly sprung, we've compiled a list of our picnic must haves in Barangaroo, so you can soak up some much-needed sunshine and fresh air in style!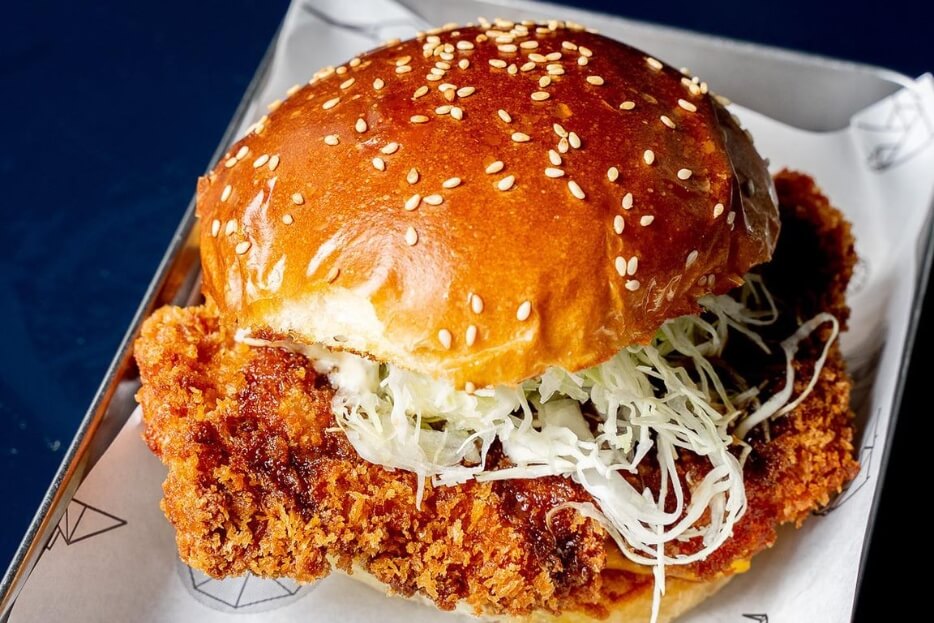 Ume Burger
Calling all burger connoisseurs: don't miss Sydney's best Japanese burgers. Ume Burger brings all the best elements of a casual Japanese eatery direct to Sydney's waterfront. Inspired by Tokyo's street-counter culture, Ume Burger has put together a menu of Japanese burgers, sides and intriguing drinks guaranteed to get you coming back for more. 
Picnic faves: The whole menu is a solid ten! If you're feeling adventurous, try their Fish Katsu Burger, but we can't go past their signature Ume Burger.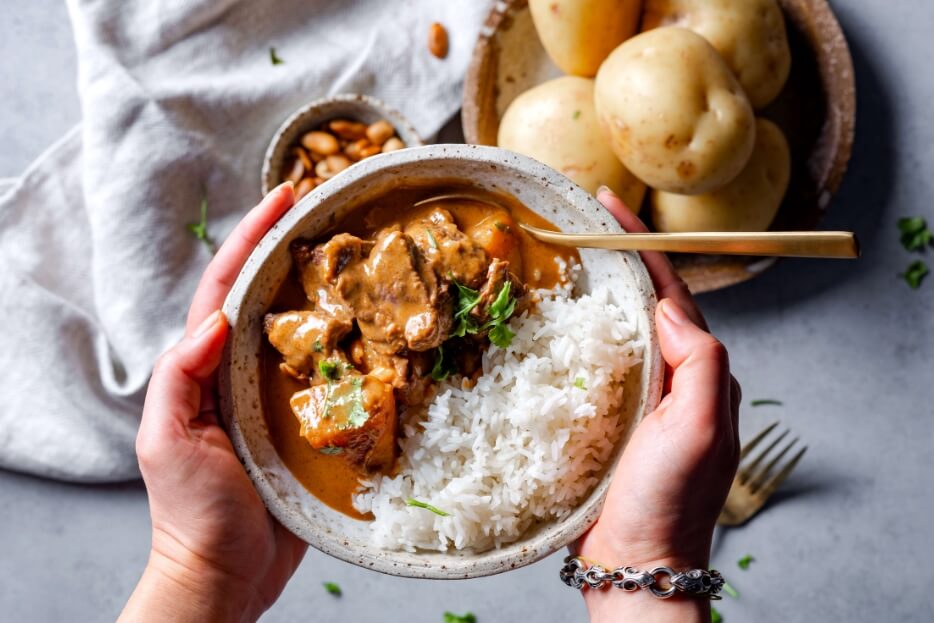 Pepper Seeds Thai
Pepper Seeds Thai know that real Thai food is all about creating that perfect harmony of spices and fresh ingredients to balance sweet, salty and sour. The chefs here get that balance right, serving authentic Thai dishes from curries and noodles to spring rolls and desserts. This is one of Barangaroo's best Thai restaurants - fast, convenient and delicious. Top tip, you can order takeaway online! 
Picnic faves: The Pepper Seeds team have nailed their entrees, so grab some curry puffs and spring rolls to kick off your picnic. We also recommend a serve of their Thai Fried rice, for kid (and big kid) friendly flavours.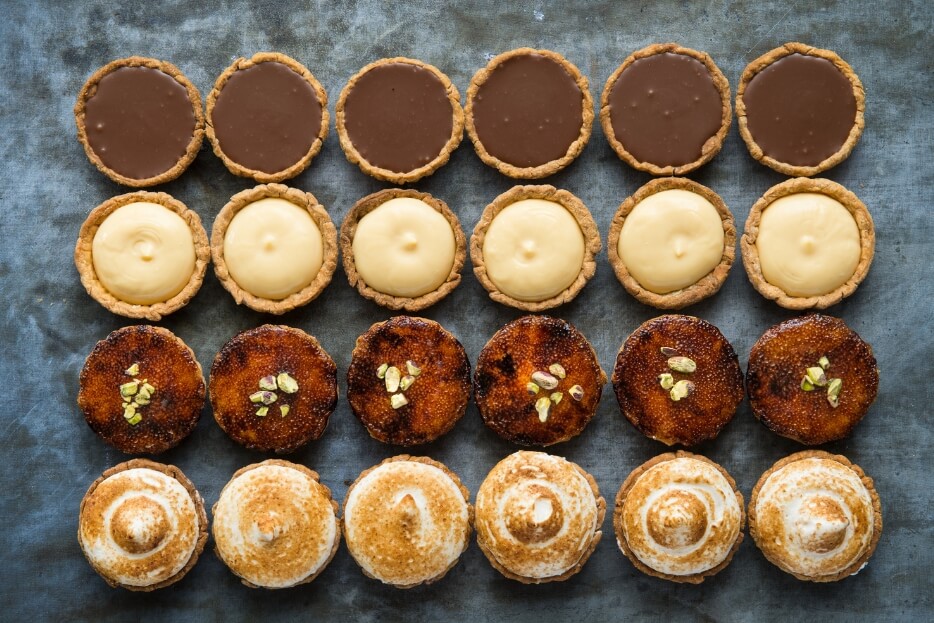 Bourke Street Bakery
Head on down to this Sydney icon, serving up freshly baked pastries, breads and sweet treats, all made by hand the old-fashioned way. Years ago, a little, unassuming bakery opened on a corner in Bourke Street, Surry Hills. Soon after they had queues out the door for their delicious handmade pastries, sweet treats and sourdough breads. Since then, these legends have opened a Barangaroo bakery, which takes the cake as one of the best places to eat in Barangaroo. 
Picnic faves: Have you tried their Crosstie? A cross between a croissant and a toastie, everyone is sure to love this cult classic menu item. We would also pick up an assortment of their legendary pies, sausage rolls and quiches.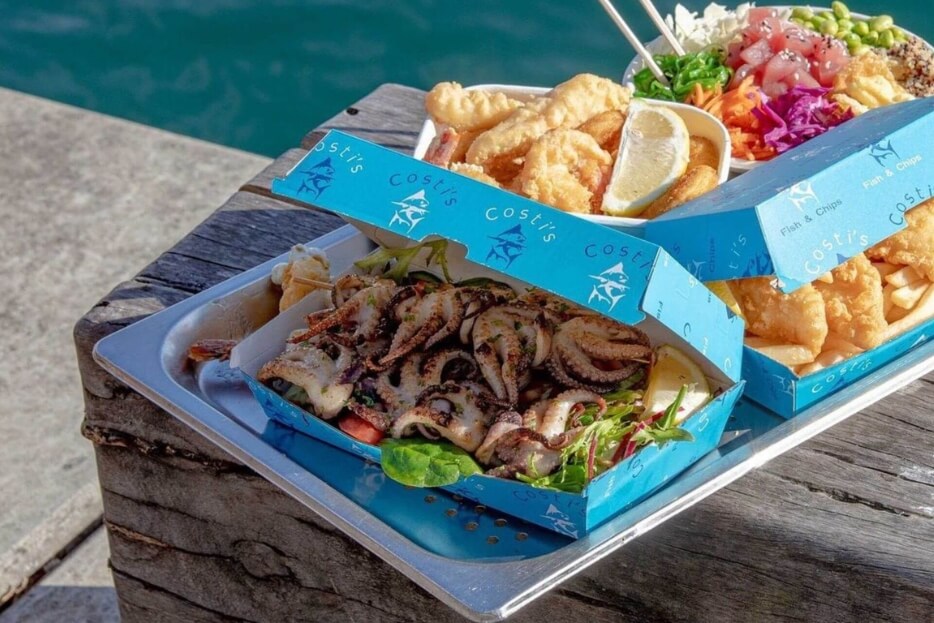 Costi's Fish and Chips
Taste Sydney's freshest seafood, from tide to plate daily at Costi's Fish and Chips in Barangaroo. Costi's is not your average Sydney fish and chip shop. This Baranagroo restaurant offers both takeaway and dine-in, with an extensive menu of fresh, healthy seafood dishes, perfect for a quick work lunch or a weekend treat. From battered fish and chips, to poke bowls and grilled salmon - everything is caught fresh on the day it's prepared. It's just better that way! 
Picnic faves: We would definitely recommend their Greek-style lemony octopus, and while you're at it, pick up some prawn skewers with a thai-style sauce! You can't go wrong with their fresh catch of the day, so ask the friendly staff what they recommend!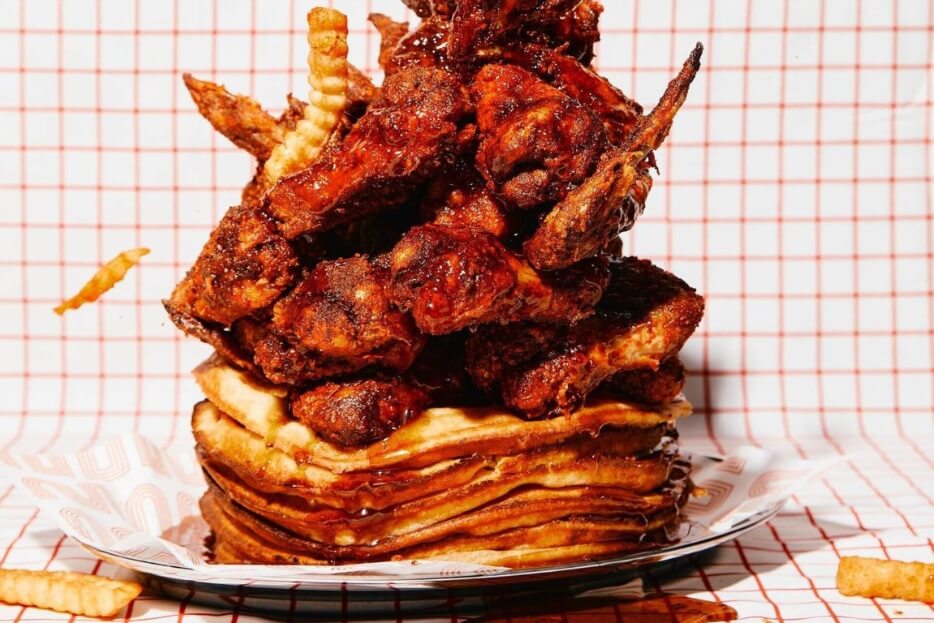 Belles Hot Chicken
Belles Hot Chicken will transport you from Barangaroo to the streets of Tennessee with their impossibly good Nashville-style hot chicken. Kiwi-born Chef Morgan McGlone discovered the delights of real Nashville-style hot chicken. Crunchy and blazing hot on the outside, tender and bursting with flavour on the inside. He's bringing that goodness to Barangaroo, along with natural wine, cold local beers and a cracking soundtrack at Sydney's best fried chicken restaurant. 
Picnic faves: The Nashville hot chicken is the irresistible star of the show. We love to get ours as drumsticks for finger-licking goodness. If you are feeling extra hungry, you can grab a Belles bucket, good for large groups and families.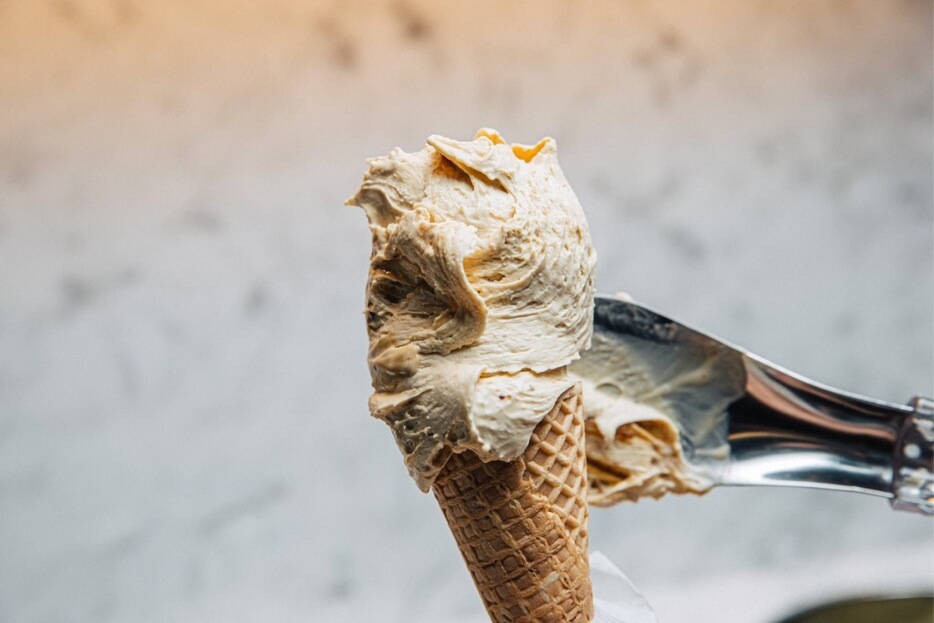 Rivareno Gelato
This is gelato as it should be - made fresh every day using traditional recipes and seasonal produce. When it's made right, as it is on the streets of Amalfi and Rome, gelato is an unbeatable sweet treat - far superior to ice cream. That's exactly what you'll get at Rivareno. They make it the old-fashioned way with plenty of flavour and just the right amount of luxurious creaminess. 
Picnic faves: Hot tip, you can grab a tub of ice cream to eat for later, you can even mix up the flavours and try a little bit of everything. We love their signature flavour "Cremino Rivareno," an indulgent blend of white choc, hazelnut and gianduja.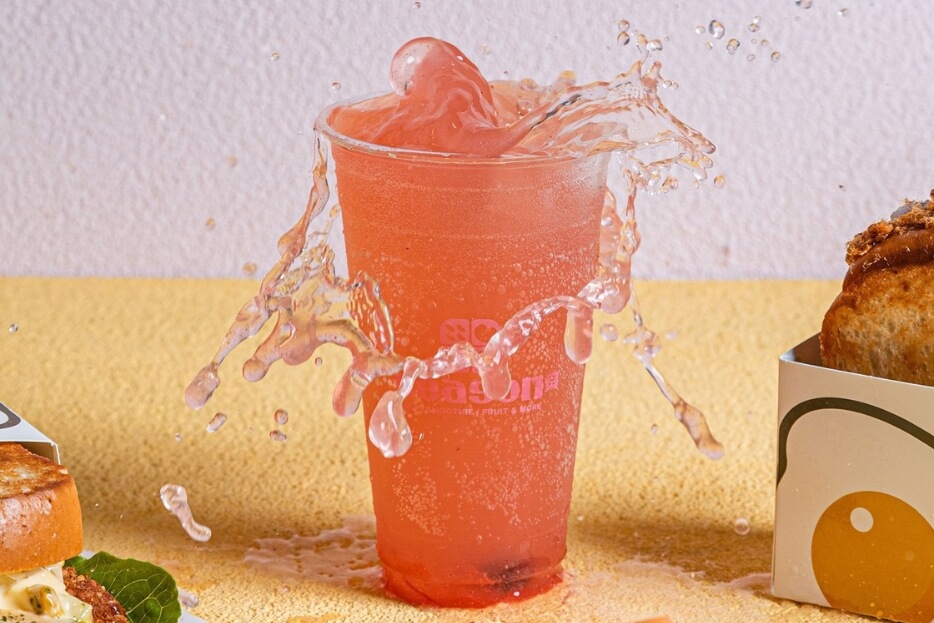 Season 2 Fruit
Season 2 Fruit serve fruit juices every colour of the rainbow - from yellow pineapple juices to green kiwi, pink watermelon and much more. They also handcraft smoothies that could qualify as art, garnished with edible flowers, cacao nibs, fresh herbs and sliced fruit with dozens of flavours - from protein-packed peanut butter to tropical concoctions.   
Picnic faves: Start your picnic right with a Sun Chaser Smoothie or go green and try their cold-pressed green juice. Their combinations are always fresh and delicious, so they make a great choice to stay cool during your picnic.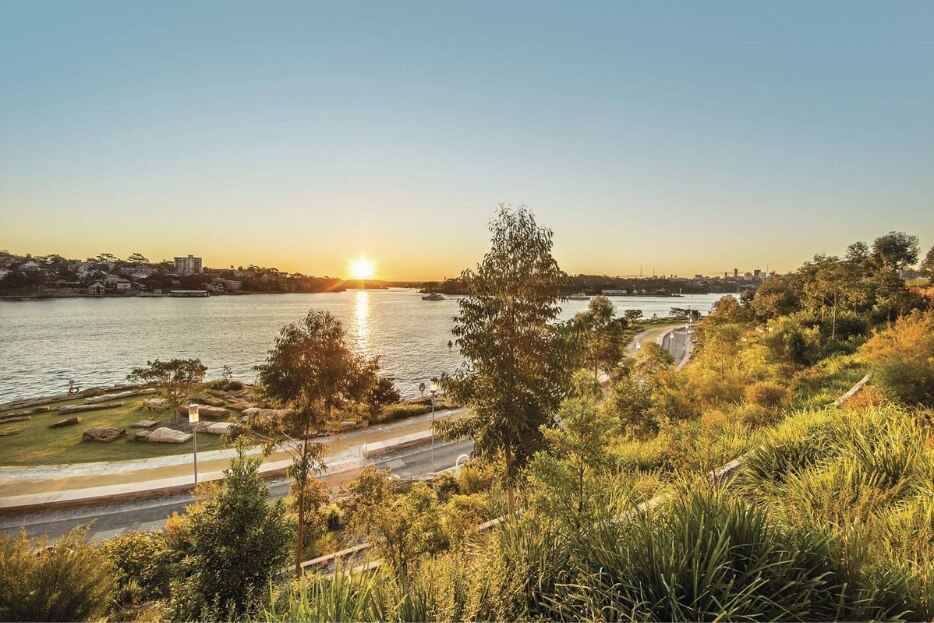 The perfect picnic spot
Barangaroo Reserve is probably Sydney's best-kept picnic spot! Although conveniently located in the heart of the city, it's away from all the hustle and bustle. Nestled among shady trees, with glorious surrounding harbour views, this will soon become your favourite place to picnic. Take your feast to Barangaroo Reserve via Wulugul Walk and score yourself a shady spot nestled among the 75,000 native plants. Once you've finished your picnic, be sure to head to down to the foreshore to catch the evening sunset amid the Harbour Bridge. Or enjoy a dip in Marrinawi Cove, Sydney's latest harbour swimming spot.
The next time you're planning to go on a picnic, stop by Barangaroo. With a myriad of green spaces and tons of food options for the whole family, you've got spring covered! We've done all the guesswork for you, so your hardest question will be "fried chicken or burgers?"
Sign Up
Subscribe to be the first to know about our latest news and events.